Residential
Bitterroot Disposal offers residential garbage service throughout Ravalli County, Montana. Our automated side load trucks can be scheduled to collect trash on a weekly or monthly basis.
CONTACT US
BITTERROOT DISPOSAL APP
HOLIDAY SCHEDULE
Residential Garbage Containers
Click links below to view Customer Responsibility Letter

Cart Placement for Automated Service
Please place your container at the pickup location the night before your scheduled pickup day. Carts MUST be returned to your property after service on the same day as your scheduled collection. Carts cannot sit at the side of the road full time as it can create a hazard for motorists, encourages illegal dumping, and may interfere with Ravalli County road maintenance operations like plowing and road grading.

Place container with handles facing away from the street. Containers damaged through normal use will be repaired or replaced free of charge.
Please bag ALL garbage. This is important as it...

Helps to reduce odors that attract insects and wildlife
Reduces litter
Minimizes likelihood of injury to waste collectors
Keeps trash carts clean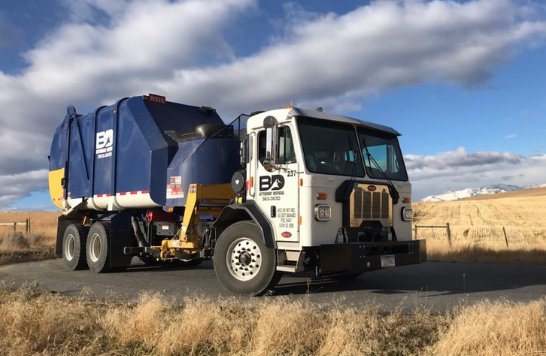 Weekly - 90 gallon cart - Green with green lid
Monthly - 90 gallon cart – Green with black lid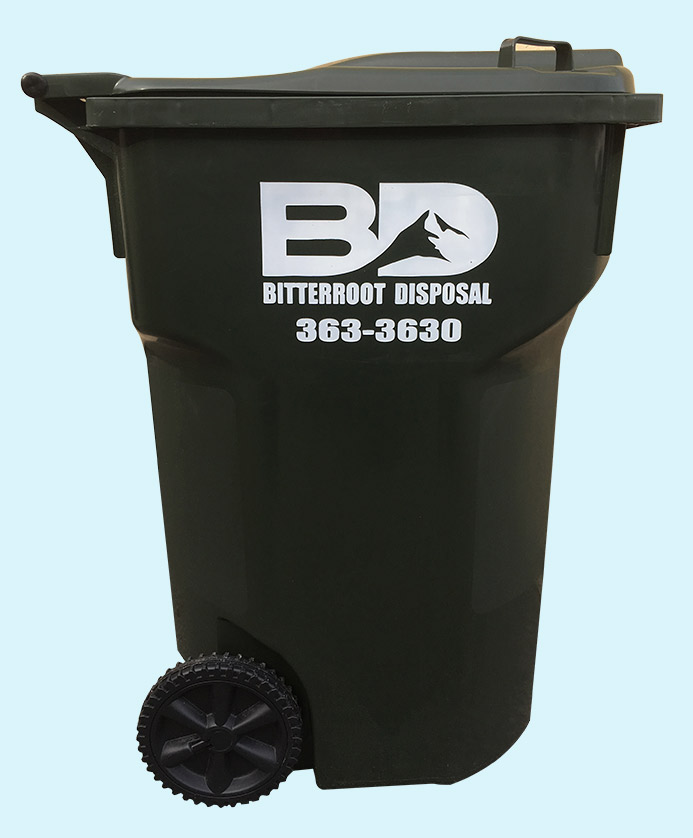 Residential Collection Schedule Look Up & App

Bitterroot Disposal now offers two easy-to-use tools for residents and an App to download>
My Schedule - enter your address to view your normal and holiday pickup schedule.
Waste Wizard - search for any item to check if you can place it out for curbside collection.

Bitterroot Disposal App - With the app you can view you pickup schedule, set up reminders, pay your bill and use to Waste Wizard to look up items for proper disposal. Download Google Play | Apple Store
Residential Waste Materials
Please review the acceptable and unacceptable materials listed below. For safety, environmental and legal reasons, not all waste materials are allowed in Bitterroot Disposal containers or trucks.
Acceptable Residential Waste
Bagged normal household trash
Small pet waste, double bagged
Unacceptable Residential Waste
Ammunition
Antifreeze
Ashes, hot or cold
Dead animals
Flammable or combustible liquids
Gasoline
Hazardous materials
Motor oil
Paint, wet
Un-bagged trash
Vehicle fluids
Additional Residential Services
Special pickup – Bulky items etc: TV, couch, refrigerator, etc.
Special pickups: Special pickups with a rear load truck are offered on Mondays upon request. Special pickups must be scheduled no later than 3 PM on Friday to take place the following day. State law requires that any refrigerators, freezers or air conditioning units are certified to be drained of Freon prior to pick up. Please call our local office for more information.
Recycling: Not available at this time.
Driveway/yard service: Location safety must be approved and additional fees may apply.
Vacation service: Adjusted billing for customers on extended vacations. Please call our local office for more information about this service.
Residential Billing
Residential customers are billed quarterly based on four pickups each month for weekly service. Payment is due on or before the 25th day of the first month in your billed quarter.
Bitterroot Disposal makes it easy to pay your bill online, by phone or by phone. We accept checks, cash, money orders, Visa, MasterCard, Discover, and American Express. Visit the Bill Pay page to learn more.
| Quarter | Months Covered | Due Date |
| --- | --- | --- |
| 1st | Jan, Feb, Mar | Jan 25 |
| 2nd | Apr, May, Jun | Apr 25 |
| 3rd | Jul, Aug, Sep | Jul 25 |
| 4th | Oct, Nov, Dec | Oct 27 |